Stenosing tenosynovitis, also known as "trigger finger," is a repetitive strain injury that is one of the most common injuries in the workplace. It is marked by one finger or thumb that is stuck in a bent position and pops or snaps when straightened. It is caused by an inflamed or irritated flexor tendon.
As it slides through the sheath tunnel, the back and forth motion causes the irritation which can lead to thickening of the tendon and even the formation of nodules. This can impede it movement through the sheath which can also thicken so that the opening that the tendon slides through becomes smaller.
What are the symptoms of trigger finger?
A person with trigger finger may experience several symptoms in one or more fingers or thumb including:
Pain when straightening or bending the finger
Swelling
A lump in the palm that is tender
The finger or thumb joints have a popping or catching sensation
Stiffness
The impaired tendon may suddenly break free causing the finger to snap straight or feel like it is dislocating
Some symptoms, like the stiffness, popping, and catching, may be more pronounced after periods of inactivity. The patient may find that upon waking in the morning they have difficulty, but as they move their fingers they loosen and the symptoms aren't as bad. In severe cases the patient is unable to straighten their finger, even with help.
What causes trigger finger?
Many times the cause of trigger finger is not known. They may notice a gradual decline or they may simply wake up one day and experience symptoms. There are certain health conditions and circumstances that put some patients at a greater risk of developing trigger finger:
Men tend to get trigger finger more than women do
The most common age group for trigger finger is between 40 and 60 years old
It is more prevalent in patients with rheumatoid arthritis, diabetes, and other medical conditions
Repetitive hand motions such as typing, gripping power tools, or playing video games
Activities that put a strain on the hands.
What are the treatments for trigger finger?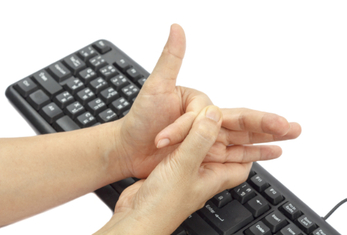 In some cases the doctor may advise steroid injections administered directly into the tendon sheath to correct the problem. Sometimes this procedure only provides temporary relief and improvement, requiring a second injection. If the condition is not resolved after the second injection, the patient may be advised to undergo surgery. If the patient has had trigger finger for a long time or if they have a medical condition such as diabetes that is associated with it, injections are not likely to be as effective or a permanent solution.
Some patients undergo surgery to correct trigger finger. The surgery is purely elective since the condition is not considered dangerous. The surgery opens up the tendon sheath, the tunnel that the tendon slides through, so that it moves easier. It is usually done on an outpatient basis.
Chiropractic for trigger finger
There are two chiropractic techniques that are used for trigger finger: Active Release Technique (ART) and Graston technique. Studies have found these chiropractic techniques to be very effective in treating trigger finger.
Instrument based soft tissue therapy may also be used to help reduce tension in the muscles around the area. Chiropractors typically use a whole-body approach to help the patient achieve relief and healing. They recognize that most conditions are not limited to only what appears to be the affected area so they will employ techniques that treat the associated areas of the body as well. This provides the patient with more reliable relief without the use of invasive procedures. Chiropractic is an effective, natural way to treat trigger finger.
I hope you found this article helpful and gained some new knowledge from it. Please, leave a comment or feel free to ask questions. Also, Let your Friends and Family know about the article by sharing it on Facebook.
In Health,
Dr Jerrod Dawson