Teachers go through a lot in a day. They spend hours on their feet. They bend, stoop, and lift, hunching over students' desks helping them and carrying heavy books. They sit at a desk, grading papers. It's no wonder so many of our educators complain of neck and back pain! The good news is, regular chiropractic care can help alleviate those symptoms so that teachers can keep doing what they do best – sculpting young minds.
Research shows that back pain is a common complaint for teachers. When you factor in the mental stress as well as the physical demands, it is easy to see how they could have problems with aches and pains. Chiropractic care offers a proactive approach to health care and overall wellness to keep teachers pain free.
Why Teachers should Seek Chiropractic Care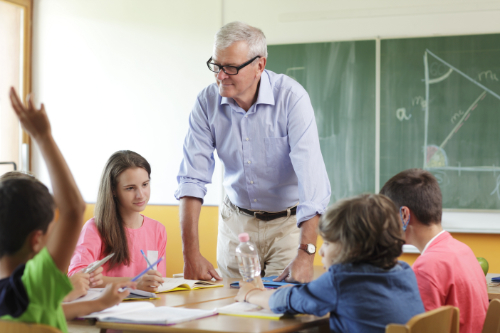 When you are juggling home, family, and career, it is easy to put your health on the back burner. You may start out ignoring that twinge of pain in your lower back, or those headaches that you get now and then. But if left untreated, these problems can worsen.
That occasional back pain could turn into a full-time ordeal, affecting your arms, legs, even your feet. The occasional headaches could steadily increase in intensity and frequency until it seems you can't go a day without one.
When your body is bombarded with pain it affects every aspect of your life. Even low-level pain that is constant can lower your performance on the job and at home. It can cause irritability, difficulty concentrating, and fatigue. Your students suffer; your family suffers. It is really worth it?
Chiropractic care is a proactive approach to better health both mentally and physically. It will help you stay on top of your game so that you function better in the classroom as well as at home.
When you feel better you will have more energy to do the things you enjoy. Even once a week or once every two weeks in a chiropractor's office can make a world of difference in how you feel and how you function.
What Chiropractic won't do for Teachers
Chiropractic is a natural approach to health care. It provides patients with a non-invasive, medication free way to manage their pain. The teacher who seeks out chiropractic care will not be prescribed mind-numbing medications that upset the stomach and inhibit your performance in the classroom.
It won't prescribe invasive procedures that require time off work and out of the class while you recuperate. Medical doctors often just treat just the symptoms without every addressing the root of the problem. This is an almost sure-fire guarantee that your problems will return because they were never resolved.
Chiropractic seeks to find the cause of the problem so that the pain can be managed, not just temporarily relieved.
How Chiropractic Benefits Teachers
When you visit a chiropractor, he or she will do much more than just adjust your neck and back. They may discuss with you the activities you enjoy, what your schedule is like, and how you spend your day.
While they will realign your spine and bring your body back into alignment, they will also help you in other areas as well. This translates to fewer sick days, less pain, and increased effectiveness in the classroom.
Chiropractic provides a whole-body approach to wellness. It sees the patient, treating  the underlying causes, not just the symptoms.
Your chiropractor may offer nutrition and dietary advice, advising you to lose weight, eliminate certain foods from your diet, or add certain foods. They may recommend lifestyle changes like quitting smoking or incorporating exercise into your daily routine.
You may be given supplements that support your immunity, joints, or overall health. By treating the whole patient, chiropractic is more effective and will greatly improve the patient's quality of life.
I hope you found this article helpful and gained some new knowledge from it. Please, leave a comment or feel free to ask questions. Also, Let your Friends and Family know about the article by sharing it on Facebook.
In Health,
Dr Jerrod Dawson